There are two kinds of readers available here. 1) The readers that are now out of copyright. They are available free for anyone who wants to read them. They can be distributed free but must not be offered for sale. 2) Books that are kindly offered by publishers, usually in "Flipbook" form. These must be read on the publisher's site using the link provided here. The M symbol indicates that a quiz is available for this book on the ERF's MReader.org website.

Bee Creek Blues and Meridian
Author: Greta Gorsuch, Publisher: Wayzgoose Press
2000 Word Level, CEFR B1, MReader rl[6]. 6442 Words
This is a sample copy, downloadable from Amazon.com.
The Bee Creek Blues: It is 1934, in the middle of the Great Depression in America. There is no work, and times are hard.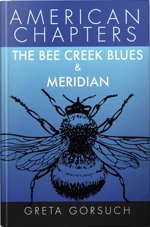 Adrian Cooper, a young African American college student from Ohio, has had to leave school because there is no money. He joins CCC Company 1827 to help build roads, dams, and parks. And he belongs to a rare "integrated" CCC company where African Americans work side by side with white Americans. CCC Company 1827 is sent to Meridian, Texas where it is hot, and the sun shines hard all day. The government wants them to build a dam, by hand, to bring water, and hope, to the ranchers and townspeople of Meridian. Not all goes smoothly. Some whites in Meridian don't like the idea of African Americans working on the dam. Will CCC Company 1827 build the dam? Will Adrian ever go back to school? Will good times ever return? Follow Adrian as he works alongside his friends and rebuilds his future.
Meridian: It is present day Meridian, Texas, and the Meridian Tribune, the tiny local newspaper, needs a new reporter. Young Mr. Bill Wells, fresh from the University of Texas, takes the job. Moving from the big city to a small town (Meridian: Population 4,445) brings some surprises, but Bill Wells reports on who he meets, and places he visits, and brings to life this small and diverse town. He battles alongside the townspeople to keep the local school open and encourages young people in town to learn photography. Written as a series of newspaper advertisements and stories, we follow young Mr. Wells as he begins to call Meridian his home.
Flipbooks from ELI Click the link to go to the ELI site.

Expedition Brazil
The Portrait of a Lady

Stage 3 (1000 headwords) B1 Preliminary (PET)

Stage 3 (1000 headwords) B1 Preliminary (PET)

MReader rl[6], 10400 words

M

MReader rl[6], 3820 words