While the best way to get to students to read is to excite and inspire them to read, while at the same time providing them with access to easy material on topics that they would enjoy. However, when you are dealing with multiple classes with students who would prefer to do other things instead of reading, "inspiration" will only go so far.
Having a system to tracking what your students have read will not only inform you about who has and hasn't been reading, the tracked word counts themselves provide a motivating force that you can capitalize on by making reading goals for each week or month or competitions between groups in your class, or between classes.
Here are some ways to do it.
Give everyone a booklet for recording their reading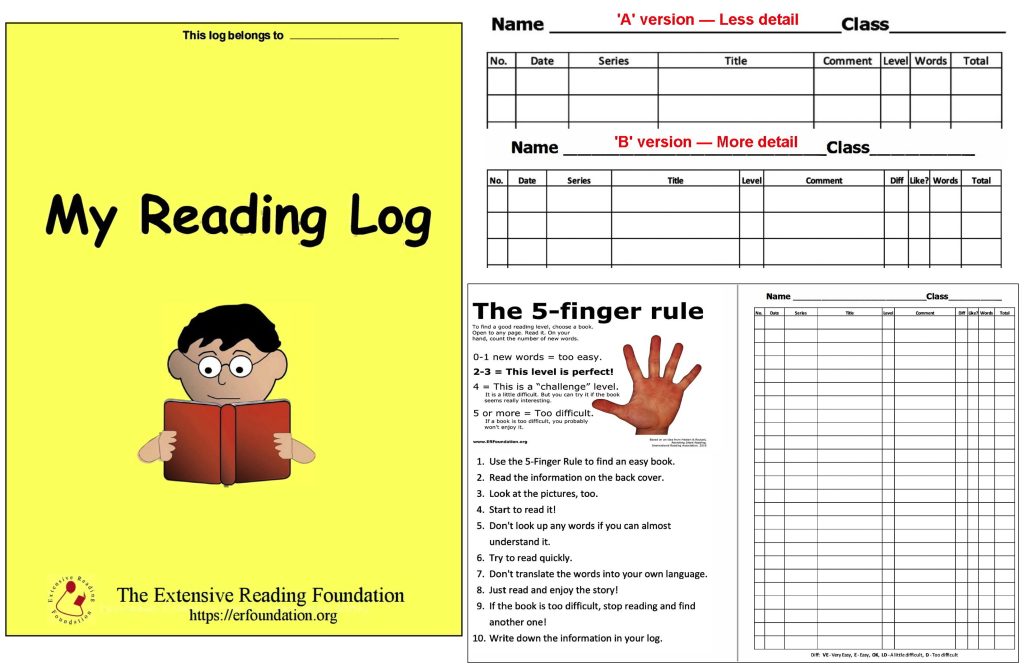 Four variations of a small booklet, that uses either one or two folded sheets of paper are available on the ER Foundation's website. The image shows a composite of the various components of each booklet — brief instructions on how to select a book and read it efficiently, followed by 2 or 6 pages for recording their reading.
To check your students' reading when they are reading at home
Mreader.org — Virtually all of the 'graded readers' that are being offered have quizzes on MReader.org. (In all we have 7500+ quizzes). Free free to apply for your school. See https://mreader.org/mreaderadmin/s/html/about.html for more information.
Use a Google Spreadsheet — Tom Robb has prepared a Google spreadsheet that you can copy, paste in the names of your students and click a button to make a separate tab for each student to enter what they have read (not just books, online material as well) and provide feedback. The top "Master" page shows you the totals for each student. The spreadsheet is here: https://tinyurl.com/Google-Reading-Record
See this link for a quick tutorial: https://screencast-o-matic.com/u/vly/RR-howto
Note that you will need a Google account, and during the setup process, you need to agree to access a non-secure page. This is because the code that creates the pages has not yet been registered with Google.